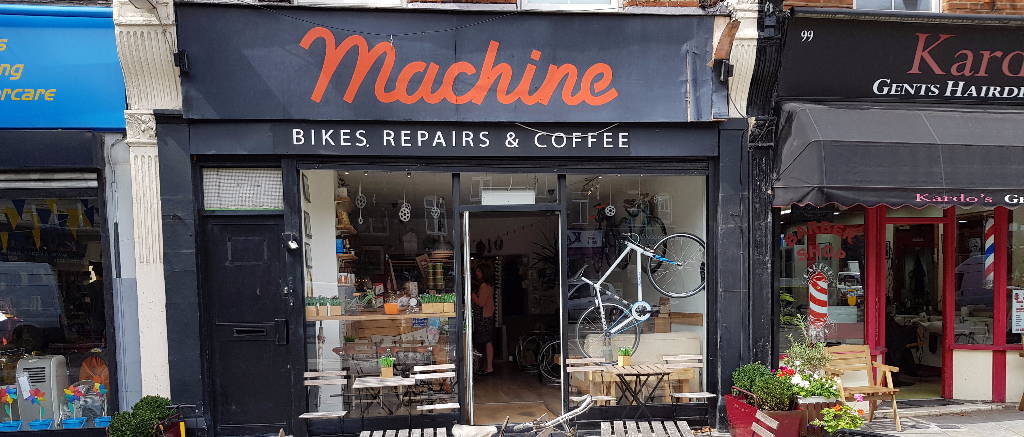 Recently Tim and I have been visiting some of the best cycling cafes in London so that we can help you find the best spots to grab a coffee with or without a bike while in London. This week we visited the charming and quirky cycling café; Machine. The café and workshop are located on Tower Bridge Road and owned by husband and wife, Vitas and Victoria.
Coffee
The first few sips of my latte were quite bitter, but it gradually mellowed and overall was a warming cup. It came served an a large latte mug in Machine's shop colours. Tim enjoyed his black coffee and thought it was tasted great, seved with a cup and saucer also in the shop colours. He was particularly pleased to see that the coffee was from London's Monmouth coffee company who have several sites in the city.
Our ratings:
My Latte 7/10 Tim's Black Coffee 8/10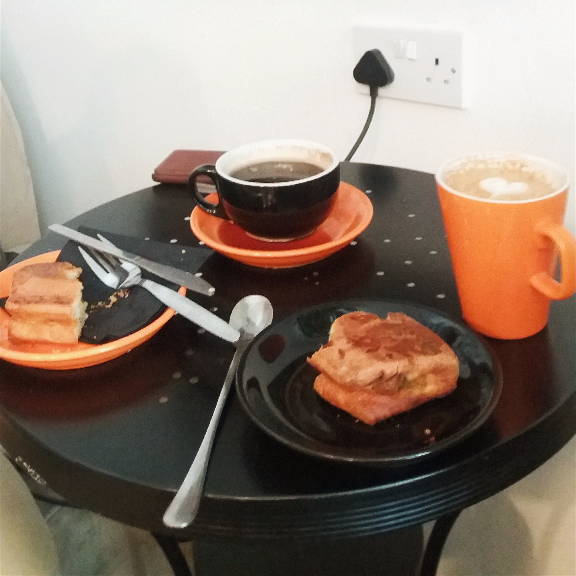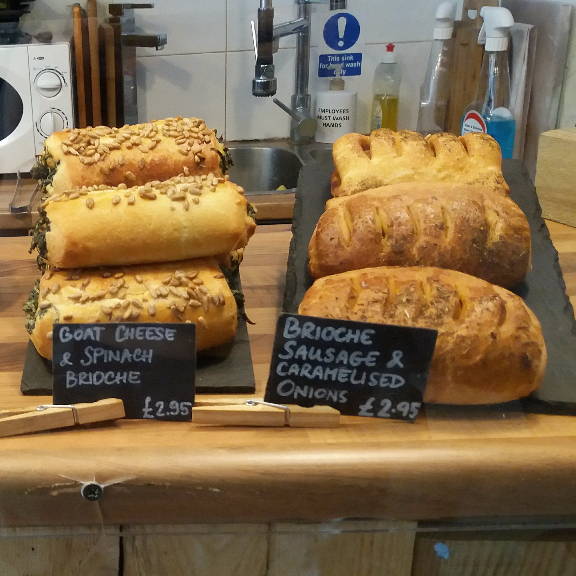 Food
Was I pleased that I chose the Brioche sausage with caramelised onion? Simply put, yes very much so! Both Tim and I thought it was amazing and had to stop ourselves from ordering a second!
The brioche sausage was such a fantastic twist on the traditional sausage roll. We were very impressed, the taste was superb, the slight spiciness was not overpowering, and the brioche was a great alternative to traditional pastry. Tim described it as "super delicious"... high praise indeed.There was a large selection of food, both sweet and savoury. I didn't try any of their sandwiches but based on the standard of what I've
tried, I'm sure they would make a lovely lunch. They also had quiche, cherry and almond tarts, protein bars, croissants, and porridge, along with lots more. There were vegetarian options, although the gluten-free range of foods was limited.
Our ratings:
Taste 9/10 Variety 8/10
Atmosphere
The outside of machine greets you with a pretty set of tables and a quirky sign on a bike. Inside, the quirky theme continues with unusual upcycled bike furniture. The coffee tables made of bicycle wheels and the bike seat stools were in my opinion, a really fun idea. I got the impression that the person who designed the shop has an eye for characteristic details. The bike shaped pasta, local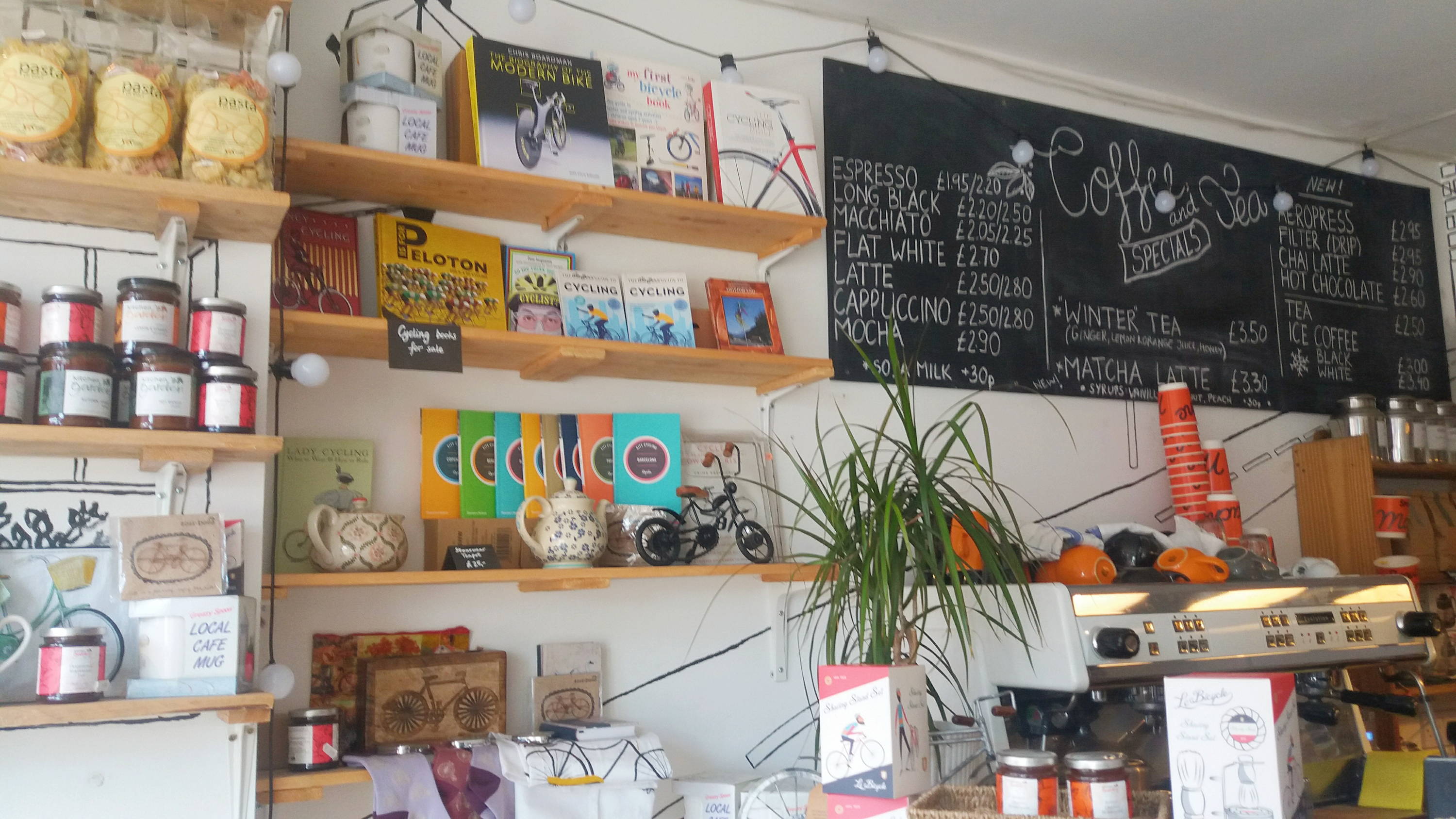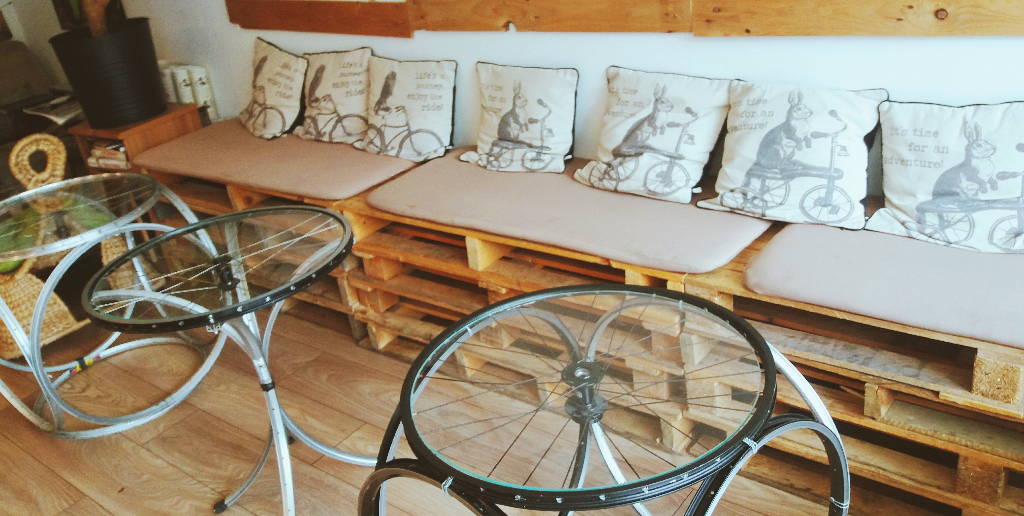 produce, cycling wrapping paper, and bicycle birthday cards were partially charming. Moreover, the staff were talkative and approachable, making the café feel open and inviting. The barista told us that customers are welcome to bring indoors their bikes and dogs as they eat. However, there were no bike racks or specific places to park a bike which I think is always a nice addition for cycling cafes.
On the upside, there was enough room inside, and outside to put a quite a few bikes, though I think a large cycling club would struggle.
Warm and friendly are two words that suitably describe Machine, the staff are very welcoming, there's even a shelf for book swapping, and they get bonus points for providing free WIFI. A great place to relax.
Our rating:
Design and Atmosphere 9/10 Bike Parking 7/10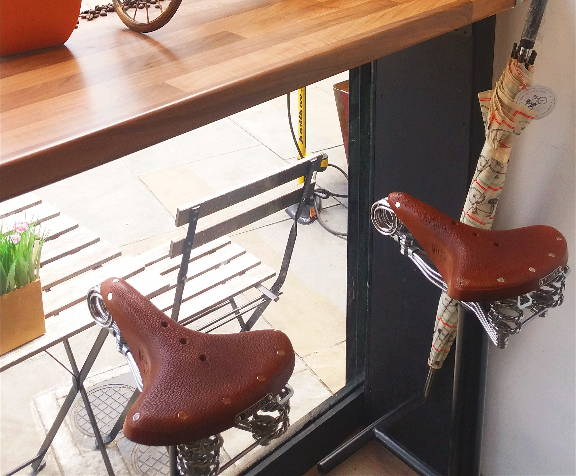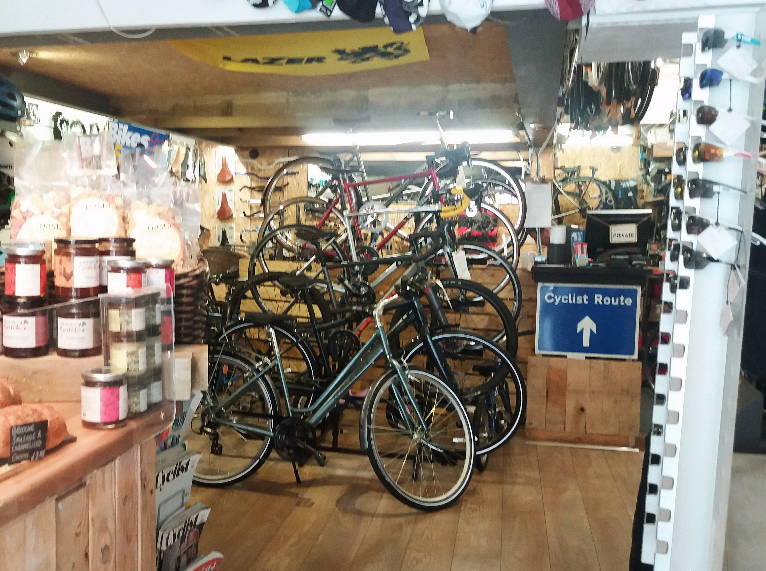 Bike Services
Machine offers all the repair services that any bike could ever dream of. They sell clothing and soft goods, although their range is limited. The shops range in protection and accessories is more generous in size. Machine also sells a wide variety of bikes including road, hybrid, custom, children's and city bikes.
Our rating:
Bike Services 8/10
Overall, Machine is a lovely, quirky café that is absolutely worth a visit if you're in town or looking for a new stop on your London commute. Be careful though, because visiting once might turn you into a regular!