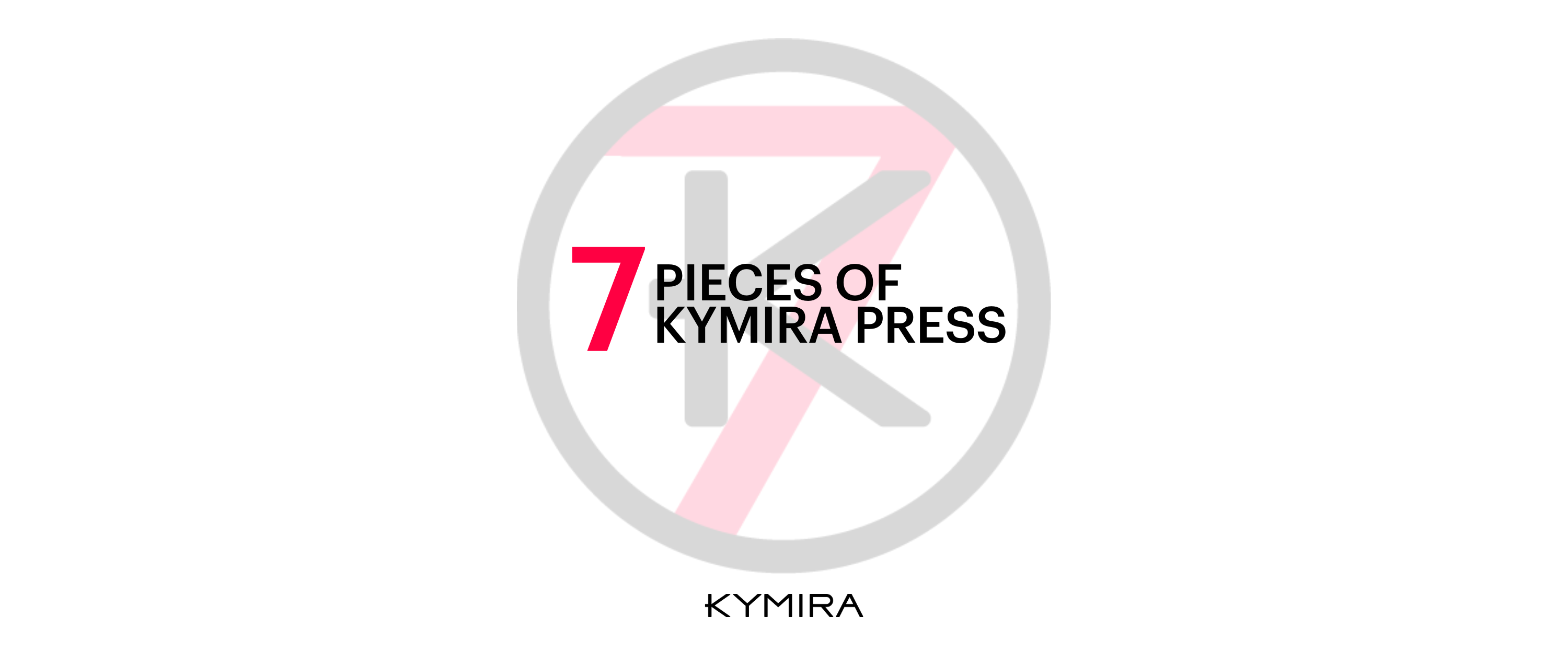 Over the past 7 years, KYMIRA have received some great press coverage. Here are a selection of our favourites.
Click the plus icons below to take a look at some of our favourite articles featuring our KYMIRA products, and the products that the articles are written about:
1. Evening Standard: The Gadgets That Will Help Push You Over The London Marathon Finish Line
This great article features our infrared running leggings as one of journalist Amelia Heathman's top five pieces of running tech ahead of the 2019 London Marathon. She focused in on the injury preventative effects of our KYMIRA Core 3.0 Running Leggings which is one of the benefits that we are most proud of! You can read the Evening Standard article HERE .
Buy Men's Running Leggings
Sold out
Buy Women's Running Leggings
Sold out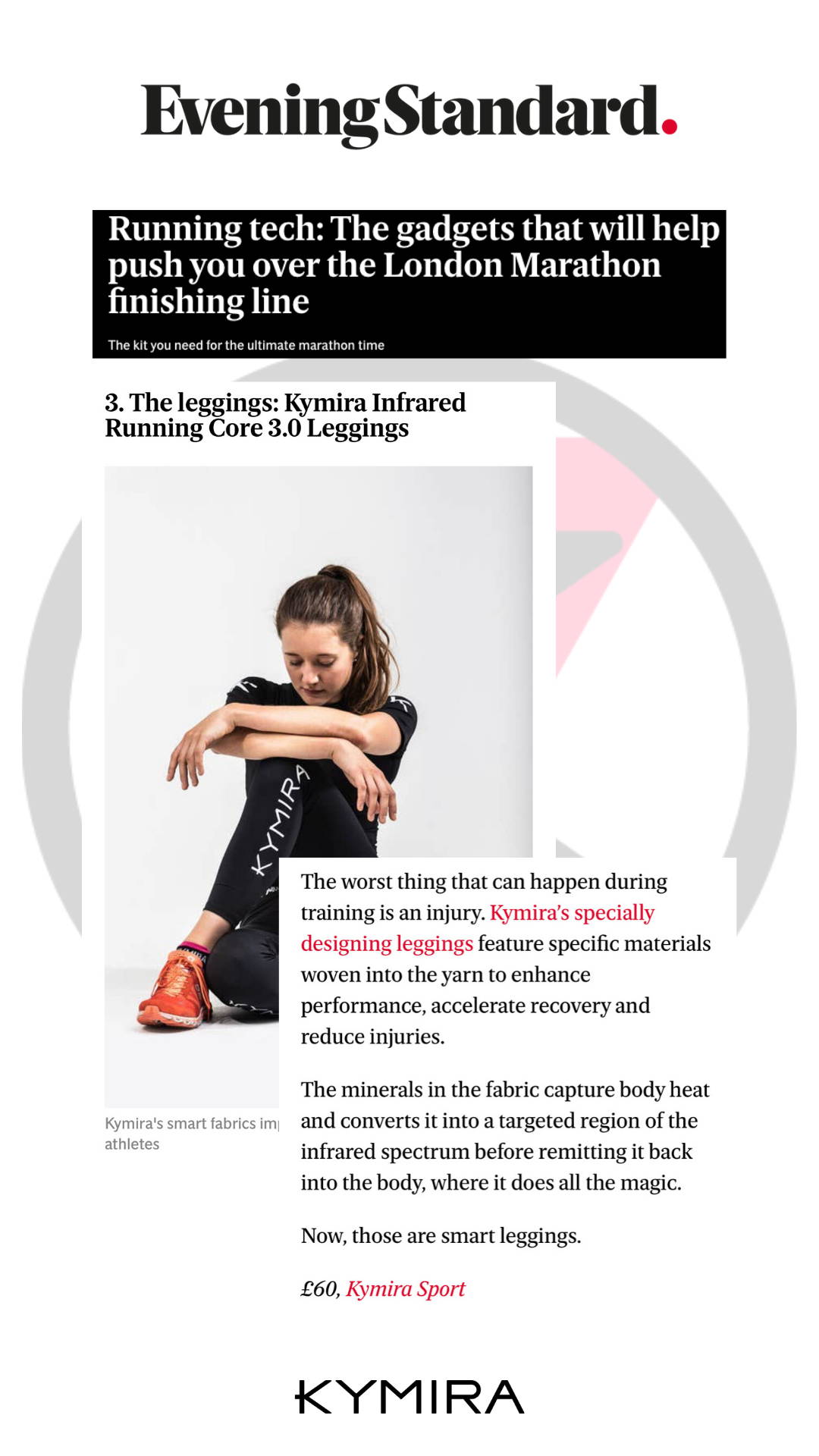 2. Forbes: Best Road Cycling Innovations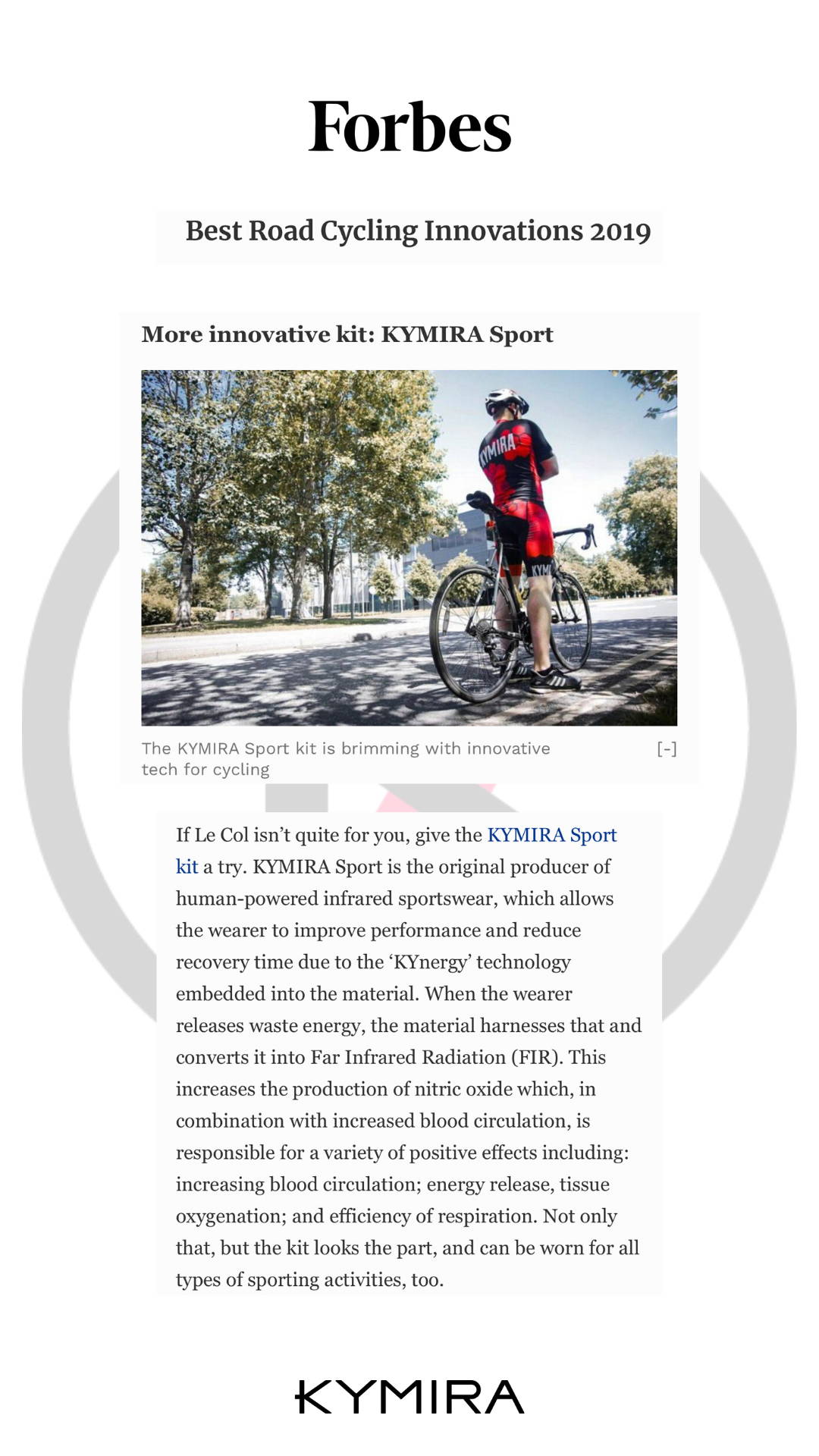 In this Forbes article, journalist Lee Bell put our KYMIRA cycling kit to the test alongside some of the markets most established brands and coolest tech. Lee thought that the kit looked great, and that our KYnergy Infrared technology really helped with his rides. You can read the Forbes article HERE .
Shop Men's Cycling Here
Shop Women's Cycling Here
3. Telegraph: 12 Fitness Gadget Gift Ideas For A Health Fanatic
Jack Rear featured KYMIRA alongside some of the best fit tech in this article for the Telegraph. Specifically he featured our IR50 collection, citing how the products boost recovery. Read the full Telegraph article HERE .
Buy Men's IR50 Leggings
Sold out
Buy Women's IR50 Leggings
Sold out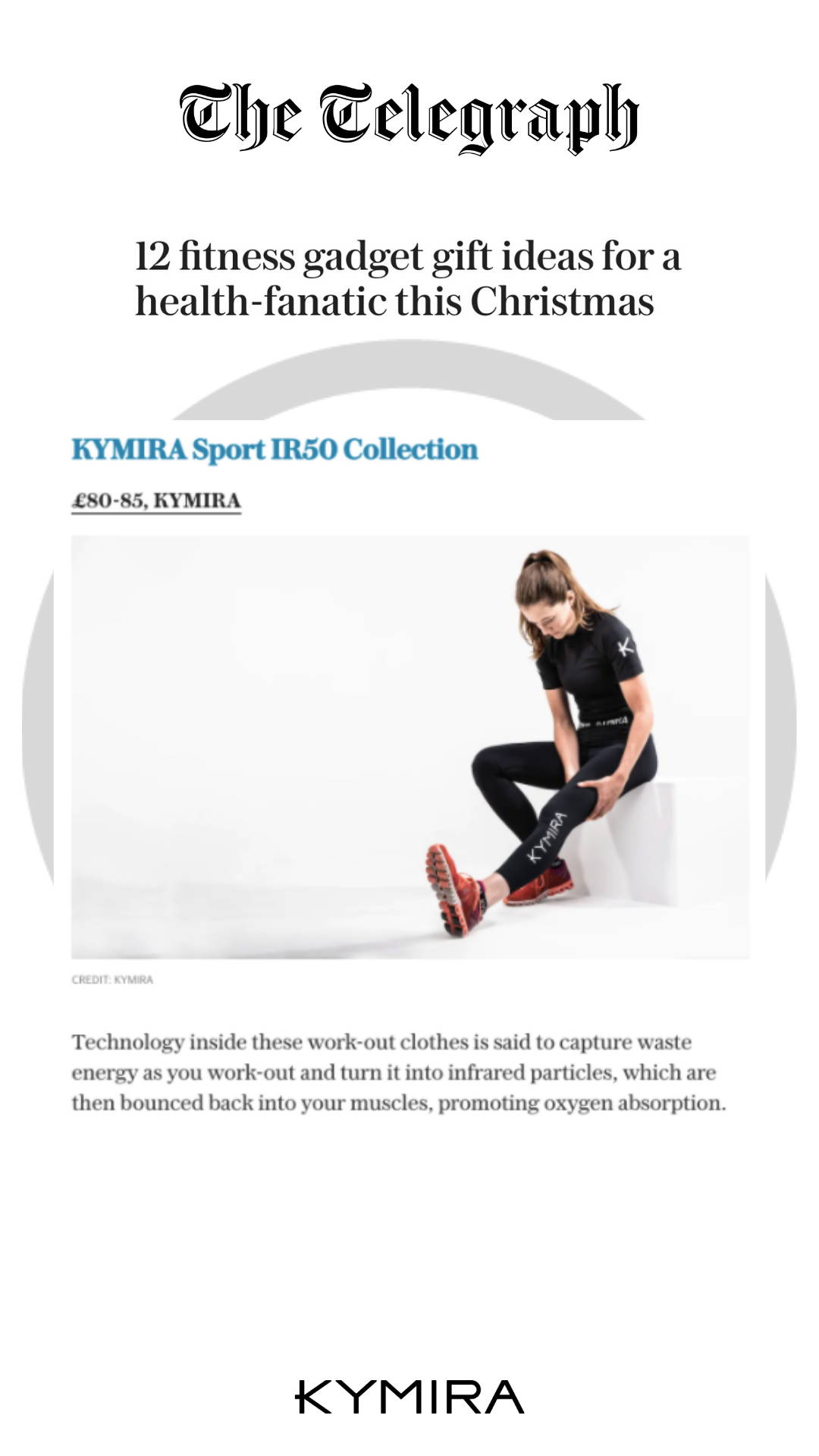 4. Short List: The Ultimate Fitness Guide & Best Bib-Shorts of 2020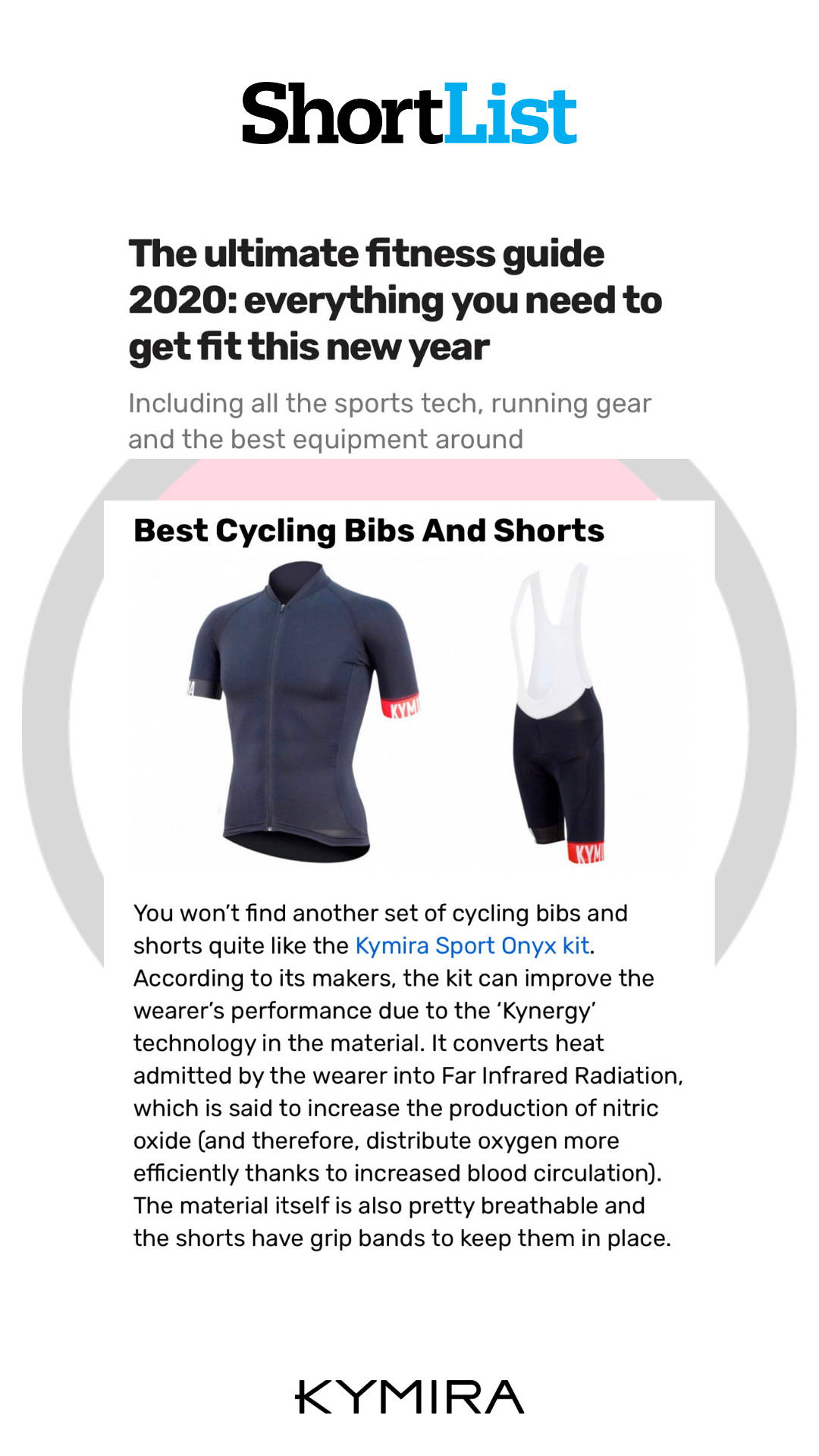 Lee Bell also featured his review of our Onyx Cycling kit in his round-up of 2020's best bib-shorts. The public then voted our's as the best of those featured which took us through to Holly Pyne's Ultimate fitness Guide for 2020. Both journalists said that their was nothing like our cycling products on the market which was why they had been selected as the best cycling products or 2020. Read the full Shortlist article HERE .
Shop Men's Cycling Here
Shop Women's Cycling Here
5. Irish News: Tried and Tested, The 10 Best Bits Of Women's Running Kit
The Irish News' Lauren Taylor featured our Women's Running Leggings as her #1 tried and tested product. Saying that they were easily one of the best pairs of leggings that she has ever run in. Saying that they are super comfy, really eye catching and that the technology has helped her out on the road. Read the full Irish News article HERE .