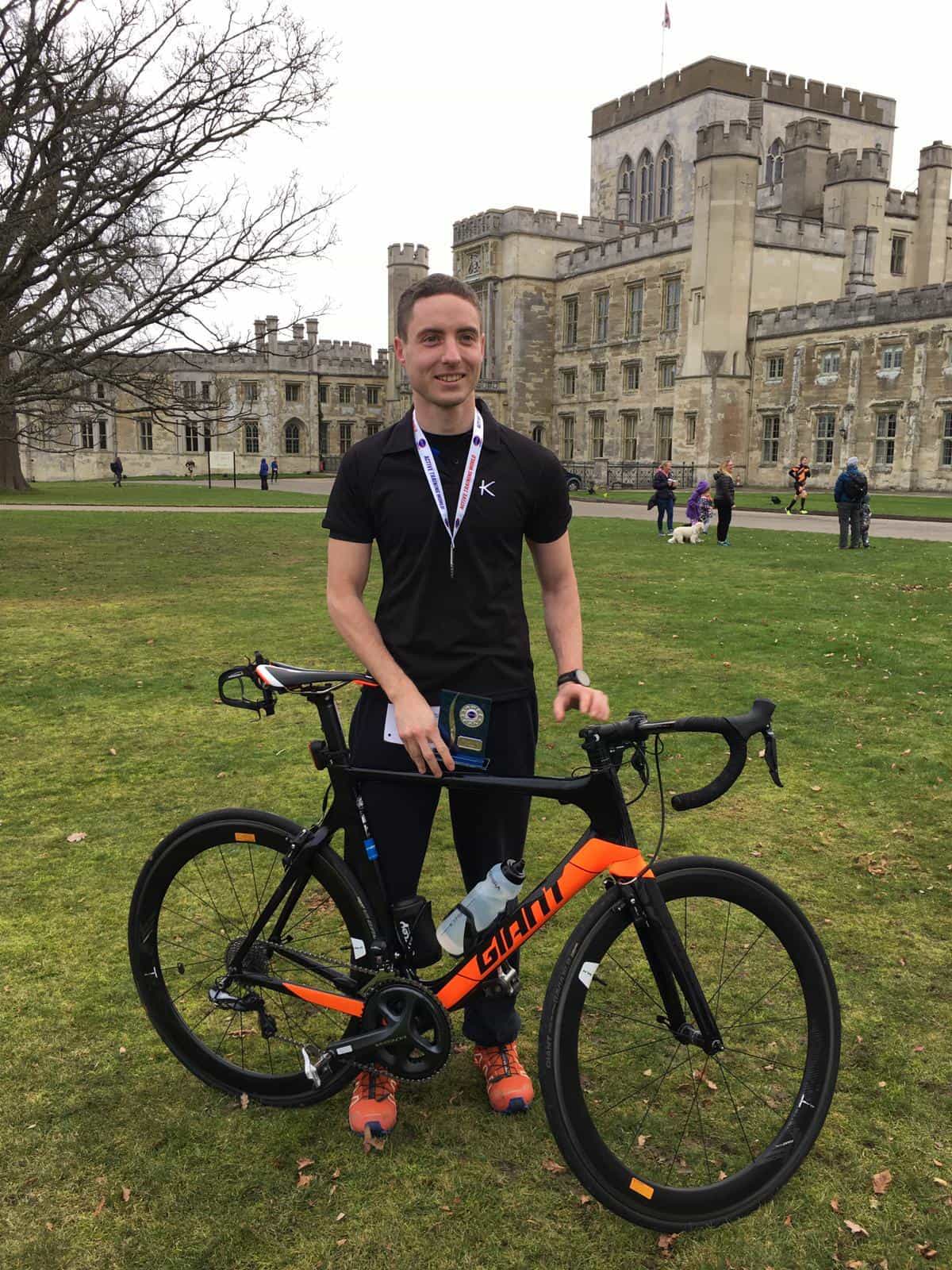 Hi I'm Carl Vidgen. I'm a GB age group athlete for Aquabike and a Triathlete.
A couple of years ago I suffered a major injury which took me out of competing in triathlons. But now I'm back thanks to Kymira Sport's recovery sportswear... and a lot of hard work.
In this blog I will be sharing my hydration and nutrition planning with you, so you can enter your race with the confidence that you are well prepared for whatever lies ahead.
Preparing for a race with regard to nutrition and hydration can play on your mind as much as the swim, bike or run. The longer the distance, the greater the thought process required for these two factors.
Hydration
If you're dehydrated before you start the race you will find it extremely hard to play catch up.
So, hydration planning is vital. You'll need to be fully hydrated beforehand and top up on fluids during the race.
Short races
During a short race I always have a bottle with about 500ml of water in. If it's a sprint race I won't use any gels or bars… mainly water.
The weather plays a vital role in how much fluid I have on board and consume during a race.
For a race under an hour and a half I'll have a 500ml bottle of water and one with a hydration tablet in or energy liquid.
If it's hot, I'll sip little and often to keep hydration levels up.
Energy boost for long races
Any race longer than an hour and a half will require gels __em fluid.
My rule is one gel per hour… mix this with sips of water or isotonic fluid.
I find that little and often is the key to keeping those pesky cramps well away.
Have any more than this and I risk having an upset stomach and possible toilet stops.
Race with confidence
My main rule is to test my plan out in training and never in a race.
By the time it's race day you should have a tried and tested nutrition and hydration plan leaving you feeling confident to focus on your performance.
Final thought
If I could share one tip with you, it would be to trial run different gels, liquids and water during your training to see what you prefer and what your body can handle.
We are all unique and our body will agree with certain products over others so leave no surprises to race day. Having a firm plan means you really can enjoy the ride!
Subscribe Today!
About the Author
Carl Vidgen is a KYMIRA Sport brand athlete. He has competed for GB in aquabike and is doing really well in triathlons having recently returned to it following major injury setbacks.
Recommended By Carl
Recovery is key to achieving optimum performance, so I always rely on my KYMIRA Sport leggings following a race. They prevent my legs from cramping and help my tired and sore legs recover faster.
In order to support my leg muscles, which take the most gruelling strain across all 3 elements of the triathlon training, I use Kymira Sport compression socks which have the added benefits of their infrared fabric.