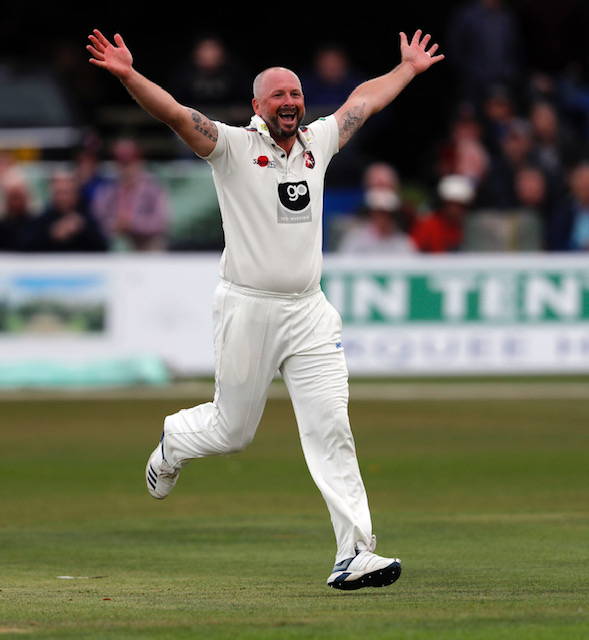 We recently caught up with one of our KYMIRA athletes, cricketer Darren Stevens. Darren has had a remarkable twelve months, being named one of the Wisden 5 cricketers of the year. At 45 he's the oldest player to receive the award since 1933!
He continues to perform at the very top of the domestic game, long after many of his contemporaries retired. His recent 190 run knock is a testament to his ability to thrive against players literally half his age!
We spoke at length about the game, his changing approach and how KYMIRA helps him to maximise his playing time and performance…
Time to read: 5 minutes
Level: Intermediate
We recently caught up with one of our KYMIRA athletes, cricketer Darren Stevens. We spoke at length about the game, his changing approach and how KYMIRA helps him to maximise his playing time and performance…
KYMIRA Sport: Darren, congratulations on being named as one of the Wisden's five Cricketers of the year. It's a double celebration as you're the oldest player since 1933 to be included in the list! How does that make you feel?
Darren Stevens: Thank you! Well, I got the phone call in October last year, so I've known all along, but I've had to keep it quiet since then! I told close family, but I couldn't tell anyone at the cricket club!
Anything related to Wisden is just an honour. With the lads that have been picked, including young Zak Crawley from Kent as well – in fact I think that's a first, two Kent lads together. It was a huge honour and I'm so happy. All the toil and hard work over the years has been worth it!
KS: Cricket has often been criticised for being slow on the uptake in terms of professionalism relative to other sports. How has your personal approach to training changed over your 24 year career?
DS: A few different ways really. When you're young everything you do is cricket, cricket, cricket. As a kid I'd be playing down at the sheds with my mates, then I'd be playing at weekends, weekdays. Then I got into the County scene, and I'd be playing and training there.
As I've gotten older, I've had to reign all of that in. Even down to the warm ups – I join in at the start, but because there's a lot of football and touch Rugby being played, I have to stay out of all that stuff! These knees aren't getting any younger and if I want to keep performing at that level, then I have to cut a few things out.
Getting involved with KYMIRA has been a blessing, a God send! I've been wearing it since October. I wear it every day and I don't want to take it off. If I'm still performing, I'm still playing and the worry is if I take it off, I don't want that old feeling back so I'm constantly wearing it!
It's all about my training now. The club have been really good, and they allow me to do what I need to in order to be ready for the next game. I've found Pilates to be helpful, plus I have a lot more deep tissue massage now. I have to manage each session and each day, but I still love the game, and have massive passion for it. We played Northampton on the first game of the season and I had more butterflies then than I did on my debut! The desire's still there to compete.
KS: We wrote a piece about extending sporting careers – many athletes achieve career highlights well into their 30s and 40s. Your career best batting and bowling figures were both achieved in your 40s – what do you put that down to?
DS: It's hard really – I don't think there's one reason to be honest. It's a number of things. Experience is important – you can't pay for it. The times where I've had my best batting and bowling figures were down to the game situation. I'd been in those situations a lot of times before, so you use the experience to your advantage. On those days it just came off for me!
There's not one single thing I can put it down to.
KS: Recovery is a key area of interest for us at KYMIRA. How do you use KYMIRA products to accelerate your recovery?
DS: I don't take it off! I wear the socks and leggings underneath my training kit. I wear the t-shirts to train in. I'm going to be wearing it to play in.
I put it on at the start of the day and basically don't take it off. I sleep in my leggings and t-shirt every night and I wear my socks to play in!
KS: As a bowler you're at a greater risk of shoulder injuries – do you perform any particular preventative exercises to maintain shoulder health?
DS: Not really. We keep our strength up with a lot of rotator cuff strength stuff, some band work, light weights, not too heavy. Bizarrely it's not something we struggle with because we're using it all the time. We don't get long breaks in between where if you've not thrown for a while and all of a sudden you throw really hard or far you can pick up injuries.
I'll bowl a few balls every day if it's not a game situation just to tick over. I throw a few balls every day. We don't get long breaks from doing it.
KS: There was a drinking culture in cricket that was still present long into the 2000s. Is that still a part of the game or have you noticed a change in professionalism as a new breed or player comes through?
A lot! There's a lot more protein shakes flying around!
Because we've got a few old heads in the changing room, if somebody has had a career best, a hundred or a fiver (5 wicket haul) we always try to sit down and have a beer to celebrate. We try and encourage that – it's a good way to get the younger lads talking a bit, because they go into their shell a bit with the older lads knocking around. A couple of beers down they've got a loose tongue!
We try and keep that at our place, but at other clubs it's gone. On away trips before COVID we'd go out and have a team meal and a few beers. It's about communication and making the young lads feel welcome and comfortable in their work environment.
KS: Have you changed your approach to training and games as you've moved through your 30s and into your 40s, especially with regards to bowling where the injury risk is higher?
DS: Bowling work, I do less. I do some basic bowling practice. I do a lot of basic drill work, keep the shoulder moving and do some target practice. The day before a game I'll work at around 60-70% and in the game I'll go in at 100%.
In the build ups I just try to maintain.
Batting is different – I do a lot of batting and hit a lot of balls. There's an old cricket saying… 'if you're in nick, hit more balls. If you're out of nick, hit fewer balls'.
KS: Your personal performances are showing no signs of decline – in fact they're getting better! Is that because you've maintained your physical peak for a long time, or are you just a smarter, more effective player through experience?
DS: It's a bit of a combination. The main thing for me is when I started bowling. I came to Kent in 2005. I bowled a little bit between 05 and 2010. I got to 2010 and I was bowling 50 overs a week.
Talking to the physios and fitness guys, they think it's down to age and bone density. I'm older, whereas a lot of the young lads coming through haven't developed fully yet. If you think about it, it makes total sense – I only really started bowling in my late 20's and early 30's, so I'd fully developed.
I've got 30-odd fivers, but I got my first one when I was 35! A lot of young lads don't get 5 fivers across their entire career because they don't last very long. I think that has a lot to do with it.
KS: Your career has taken you overseas – what are the key differences in training and recovery between the UK and abroad?
DS: Overseas is completely different to England. I went to New Zealand for a T20 comp. They would play two T20 games in a week. You'd travel two days before, have a training day the next day, you'd play the game, have a day off, then travel the next day, so you'd have a lot more time to train and recover, go to the gym.
In England you can't do that. I was looking at our fixtures for June. We have a 4 day game, a day off, a T20 game, a day off, another T20 game and then we start a 4 day game the next day. It's nuts. It's CRAZY!
Whenever I've played abroad you get time off – you'll play a game then have a week off. It's basically like international cricket. They may play two one-day games in a week.
Over here it's just relentless and you can understand why people get injured. There's no rest and you can't get into the gym as much to keep your strength up. It's nuts.
KS: With advances in training and recovery, KYMIRA technology, better sports science, how long do you see yourself playing for?
DS: Good question! I think since the age of 36 I've been retiring!
I have a meeting with the club in April. We'll have a discussion about how the winter has gone, their thoughts and mine moving forward. In June/July time we'll have a chat about whether or not I want to do another year.
If I say I'm done, it gives the club chance to find somebody who does my role. If I say I want to carry on it clears things up for them and gives me a little bit of security. So that'll be the conversation we'll have in June.
At the moment, I'm feeling good, I'm doing my job and I'm hoping they'll give me another year!
KS: Finally, what would the near 45 year Darren Stevens tell the Darren Stevens making his debut in 1997?
DS: Back then when I was a kid, it wasn't a job for me then. It was more a case of me having a laugh with my mates and playing a bit of cricket. I didn't see it as a profession.
I think I'd say to him now "don't waste your ability. Understand what you are doing, it's a privilege to play as a professional and to be a professional. Give it your all and try and take it to the next level".
That's one thing I'll look back on in my career, not playing for England. I've been close a lot of times and a lot of friends who did play for England have said I was really close, but it never really happened. Somewhere along the lines I could have maybe switched on a little bit or got my head down more and things might have been different.
KS: Well even despite not playing for England, you've still managed to cram a lot into your cricket career, so congratulations on your continued success!
You can follow Darren on Instagram .
To learn more about KYMIRA Sport and how our technology can take your performance to the next level, click here .