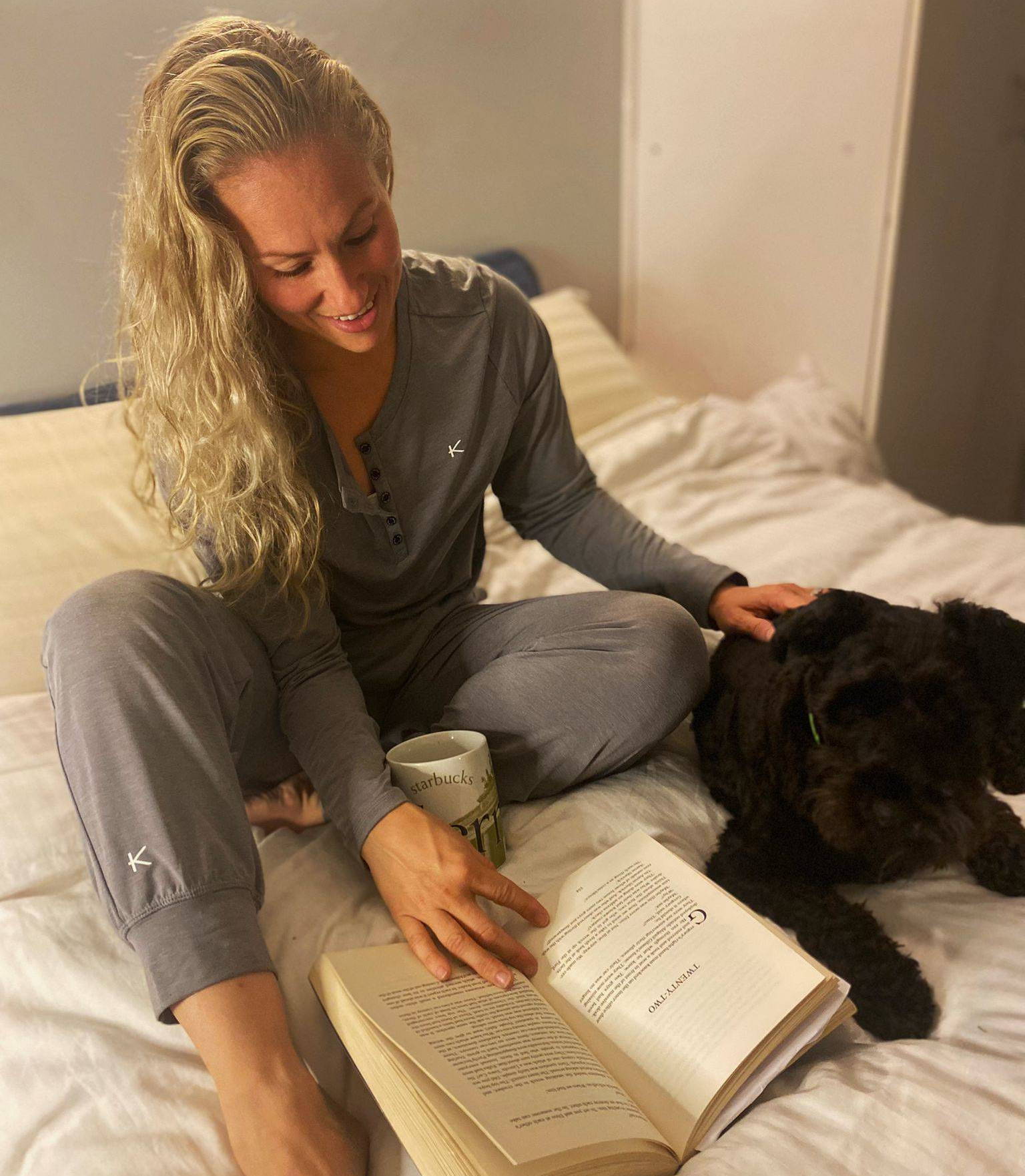 KYMIRA® Women's Infrared Sleepwear Henley Long Sleeve Top & KYMIRA®Women's Infrared Sleepwear Bottom
For so many of us, the festive period represents a time of celebration, comfort, merriment, and perhaps some winding down for the holiday period. Christmas parties, family gatherings, and social get-togethers fill the diary, and it can be incredibly easy to park your progress in terms of your physical training, and seemingly put your mental wellbeing at the forefront by switching off.
Although often the case for the recreational and amateur athlete, the same can easily ring true for professional athletes, whom despite what popular media may have you believe, are human beings too. The same yearning for connection and comfort can consume them too, and by no means is this blog a post designed to dictate what you can and can't enjoy this Christmas, but it may act as a point of reference for you to ensure that we can make the most of the period from both a professional and personal standpoint, ensuring that you stay on track, whilst enjoying the social connections and mental respite. Here's 5 quick pointers for managing the festive period, without completely letting the wheels come off!
Time to read: 3 minutes
Beginner
Key Points:
Rearranging the week trumps skipping sessions
Prioritising
Alternative choices
Portion & Consumption control
Enjoyment
For many of us, the festive period represents a time of celebration, comfort, and merriment. This blog gives ideas of how to stay on track, whilst enjoying the social connections and mental respite during the festive season...
Rearranging the week trumps skipping sessions
I would never stand in the way of someone from spending some time with loved ones over the festive period and being able to unwind and enjoy themselves. Hopefully, most of these engagements are planned in advance, and if you train alone over the winter period, it can be a much simpler predicament to face. Don't be afraid to veer away from your normal training structure in order to accommodate such occasions.
So rather than skipping your Friday session, in preparation for a few (or a few more than a few!) drinks, and then missing Saturday's session as a consequence, only to left feeling sorry for yourself on your Sunday rest day. Stick to your Friday plan, even if it means moving the session earlier in the day, that way the expenditure alone buys you some more space for the evening plans to unfold – then use Saturday as a rest day, prioritising hydration and fuelling from good quality, nutrient dense food sources, and pushing your Saturday session to Sunday when you feel more human!
I can guarantee you'll feel better for it come Monday, and you don't have to worry about the performance detriment for any more time than is necessary!
Pick your battles wisely
At the risk of repeating myself a little too much, I wouldn't begrudge anyone from social gatherings, I firmly believe that irrespective of religious beliefs, the festive season provides an opportunity to families and friends to come and connect, celebrate, and enjoy the season surrounded by the ones you care about most. That said, if we find ourselves filling up every night of December with social events, it can set us back a lot further than what would be ideal. Instead, prioritise your social calendar and good quality time spent with those that mean most. Not every diary entry has to be a long session in the pub, or a late night out on the town too. Should it suit, head out for a long winter walk and a catch up over coffee, find an activity/excursion that suits all parties and keep yourself ticking over whilst ticking the boxes from a wellbeing perspective too.
The alternative choices
Whether it's a pub lunch, or a night on the town, the vast majority of venues now offer "alternative" choices that can allow you to completely let your hair down, enjoy the social environment, but without setting you back a couple of days and derailing the training schedule your coach has meticulously planned. 0% alcohol is becoming increasingly popular, be that beers and ciders or 0%/low alcohol spirits, meaning that you don't have to feel obliged, nor alienated grasping on to a glass of water all evening (not that there's anything wrong with that!). The same applies to pretty much all food menu's too (bar those that are printed and up in bright lights behind the kebab shop counter). By no mean's do you have to turn away from indulging yourself, but there are guaranteed to be meal choices that align closely to what you need on that day, with your training in the back of your thinking and your plan for the evening at the forefront.
Portion & consumption control
There is no reason we can't find the time in the calendar for some indulgence, and even "over indulgence", but again, we just need to try and look at it through a slightly wider lens. If you know that you're going out for a big meal, and you've already eyed up the surf'n'turf with all the fried extras, or you've got your favourite table booked by the open fireplace at the pub for a 6-hour sitting, then you're probably better off embracing that than trying to tip-toe around it. But we can modify the rest of the day, and the following day to minimise the potential knock-on effects. Suitably reduce your caloric intake if possible, in the morning lead up to the event, perhaps factoring in protein balance, but avoiding the onset of further calorie dense foods, that can drastically change the average intake for the week, never mind the day as a stand-alone. If it's a night (or day, or both) on the drink that's on the cards, then set yourself up before you leave the house with some home remedies. If you have the luxury of electrolyte drinks/tablets, then it's a good idea to leave one in the fridge for you when you return home to help with fluid retention and hydration status. If not, then a large glass of water with fresh lemon juice and a pinch of salt will do the trick on a budget too!
One of the biggest things here is to try and make sure that one day, does not become two. It's easy to crave and fill yourself with poor food choices on a hangover, we've all been guilty of that. However, doing so likely condemns you to an even lengthier recovery timeline and means that even 48hrs on, you're probably going to still be feeling the effects. So try and settle back in to some form of natural routine, opt for plenty of nutrient rich foods of varying colours, and get back on top of your hydration. Exposure to daylight too will help maintain and restore circadian rhythm (your body's natural body clock), and if you can muster up the energy for some light exercise and a nice walk and some fresh air, it will do you the world of good in the long run, even if it does muster up some will power in the immediate short term!
Most importantly, enjoy yourself
This is probably the easiest portion to write for me, and it may come as a surprise to a lot of people. But the most important thing is to enjoy yourself, trust your judgement, and do what feels right. Your mental wellbeing should always be at the forefront of your thinking, and if you want to let your hair down, switch off from training mode, and enjoy a few too many drinks and a corner shop pizza, then feel free, one or two or three of these over the festive period isn't going to set you back light years from a training perspective. Will it benefit your performance? Directly, no. But if you're able to return from the break refreshed, re-energised (obviously not immediately!) and with a sense of focus to attack your training with new vigour, then your performance may in turn benefit far more than if you are to decline invitations and deny yourself those opportunities to engage and connect when they arise.
The aforementioned points give you things to consider if you're truly focussed on maximising your performance and promoting optimal adaptation from your training, but beneath all of that, you're still human, so trust your gut, do what you need to do and I wish you all the best for the festive season, and beyond.
Thanks for reading,
Paul