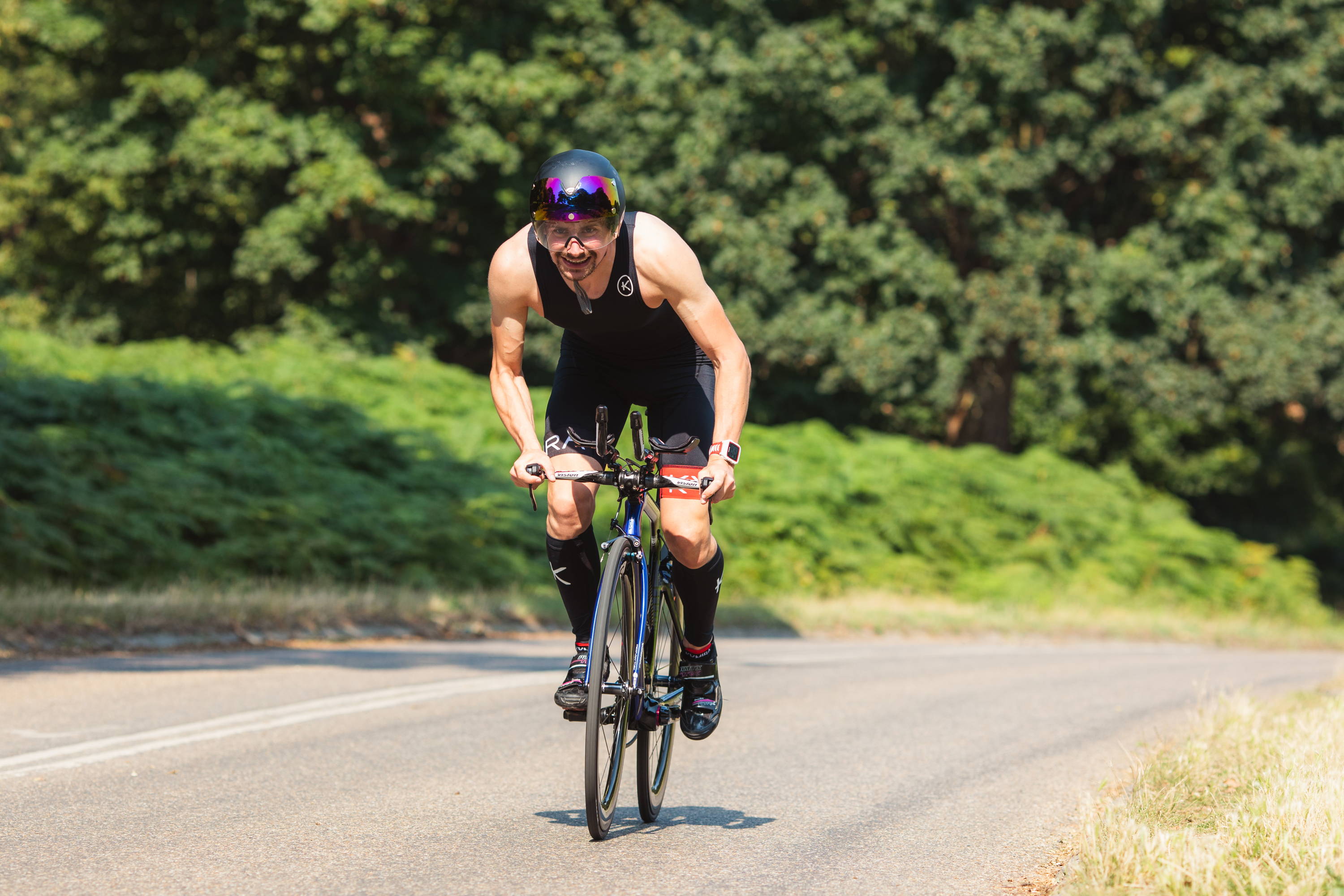 KYMIRA® Men's Tri-Suit & KYMIRA® Pro Calf Sleeves
The grand tours in cycling are widely accepted as one of the toughest events in sport. Multiple consecutive days across different terrains, altitudes, inclines and speed sections make for an event where only the strongest survive. Add to that the injuries caused by the mass crashes, and you have a sporting war of attrition.
Using data from the most famous tour of all, the Tour de France as an example, over the last decade an average of 31 riders of the opening field have dropped out of the race at some stage, which is around 17% [1]. This is a remarkable statistic when you consider that the riders in the tour are the elite of the cycling world, men who have prepared all season (and beyond) to compete in the event.
In this article we're going to explore the post stage recovery and sleep tactics that allow elite cyclists to recover quickly between race stages. We'll leave you with suggestions to help your own recovery practices.
Time to read: 3 minutes
Intermediate
Key Points:
Elite Cycling Data
Post stage recovery - Sleep
Effects of Infrared on sleep
KYMIRA® clothing and sleep
In this article we're going to explore the post stage recovery and sleep tactics that allow elite cyclists to recover quickly between race stages. We'll leave you with suggestions to help your own recovery practices...
Elite cycling data – what we know
Efforts to study the intensity data of elite cyclists are thin on the ground and understandably so – teams go to great lengths to protect their information.
Despite that, a 2017 study assessed fatigue using load and intensity ratios [2]. They measured gently a decrease in physical intensity in the first week, followed by increasing physical intensity throughout the remaining duration of the race. Throughout the duration of the race from week 2 onwards, power output dropped, and stress perception increased as the rider fatigued.
More personalised data comes from fitness wearable company Whoop, who work closely with EF Pro cycling team. They monitored team data throughout the 2020 Tour de France and published the information on a blog [3]. They reported that intensity scores (amount of effort expended by riders in a day) hit 20 out of 21 on 13 of the 21 days (we won't count the rest days) and scored averages of 19.5, 19.4, 19.2, 18.8 and 18.0 on the other days. Whoop would consider 20 'all-out effort', giving you an indication of the intensity of the event.
Tour de France data used during a 2012 study [4] suggests the following averages for the different stages…
Flat stages – 200km distance, low intensity, 4–5-hour duration, 45km/h average speed, 200-250 watts average power output
High mountain stages – 200km distance, moderate to high intensity, 5-6-hour duration, 20km/h average speed on ascents, power output of ≥6 W/kg in climbers
Time-trial stages – 30-50km distance, high intensity, 1 hour duration, 50km/h average speed, ≥400 W/kg in time trialists
Whilst it should be noted that the tours used to collect this data were known to be heavily impacted by PEDs, it gives some indication as to the real-world intensity of the event, and the different requirements across several stages of the tour.
Post stage recovery
The most important aspect of recovery between stages appears to be sleep. Whilst this isn't a surprise, it reaffirms the thinking that irrespective of anything else, deep and efficient sleep is the most important aspect of post exercise recovery.
A study published in 2019 [5] highlighted the sleeping patterns during a 5-day UCI European Tour Road cycling race. The study noted that the average sleep time for the cyclists was around 7 hours (in line with most recommendations) and that the sleep efficiencies ranged between 75% and 87%.
This compares relatively closely with the Whoop data we referenced earlier, where the cyclists averaged just shy of 8 hours per night.
Nutritionally, we know from thousands of studies that adequate hydration, carbohydrate and protein replenishment is fundamental to ensuring full restoration of glycogen stores. This is also important for kickstarting the repair of damaged muscle and connective tissues.
Infrared and sleep
Knowing that the most important aspect of post-stage recovery for cyclists is ensuring adequate sleep is important for teams and coaches. By improving this one variable they can significantly impact the performance of their athletes.
One known way of improving sleep depth, quality and efficiency is with the use of infrared. Numerous studies across multiple sports have shown us that employing the use of infrared during sleep, whether that be in the case of sheets or clothing will have marked improvements in sleep and therefore subsequent performance [6].
Direct contact with the skin via infrared sheets led to significant sleep improvements in this 2018 study [7]. Researchers concluded that 'the participants on the far-infrared sheets reported fewer insomnia symptoms and less napping.' Effective sleep improves recovery and therefore performance, so could be considered a vital part of the cyclist's overnight recovery arsenal.
KYMIRA® clothing for enhancing sleep
KYMIRA® Spor t have a range of infrared sleepwear which will help to improve the quality and quantity of your sleep. This will improve post exercise recovery, enhance mental health and improve performance. It's a secret weapon that requires no effort from you at all – just sleep!
You can find the KYMIRA sleepwear range here.
References
1] https://www.rouleur.cc/blogs/the-rouleur-journal/abandons-at-the-2021-tour-de-france
[2] https://www.researchgate.net/publication/320317767_Analysing_a_cycling_grand_tour_Can_we_monitor_fatigue_with_intensity_or_load_ratios
[3] https://www.whoop.com/thelocker/tour-de-france-cycling-strain-rhr-hrv/
[4] https://www.researchgate.net/publication/234169108_The_Tour_de_France_an_updated_physiological_review
[5] https://www.jsc-journal.com/index.php/JSC/article/view/458/568
[6] https://www.ncbi.nlm.nih.gov/pmc/articles/PMC8101933/
[7] https://www.researchgate.net/publication/326659879_The_effect_of_far-infrared_emitting_sheets_on_sleep