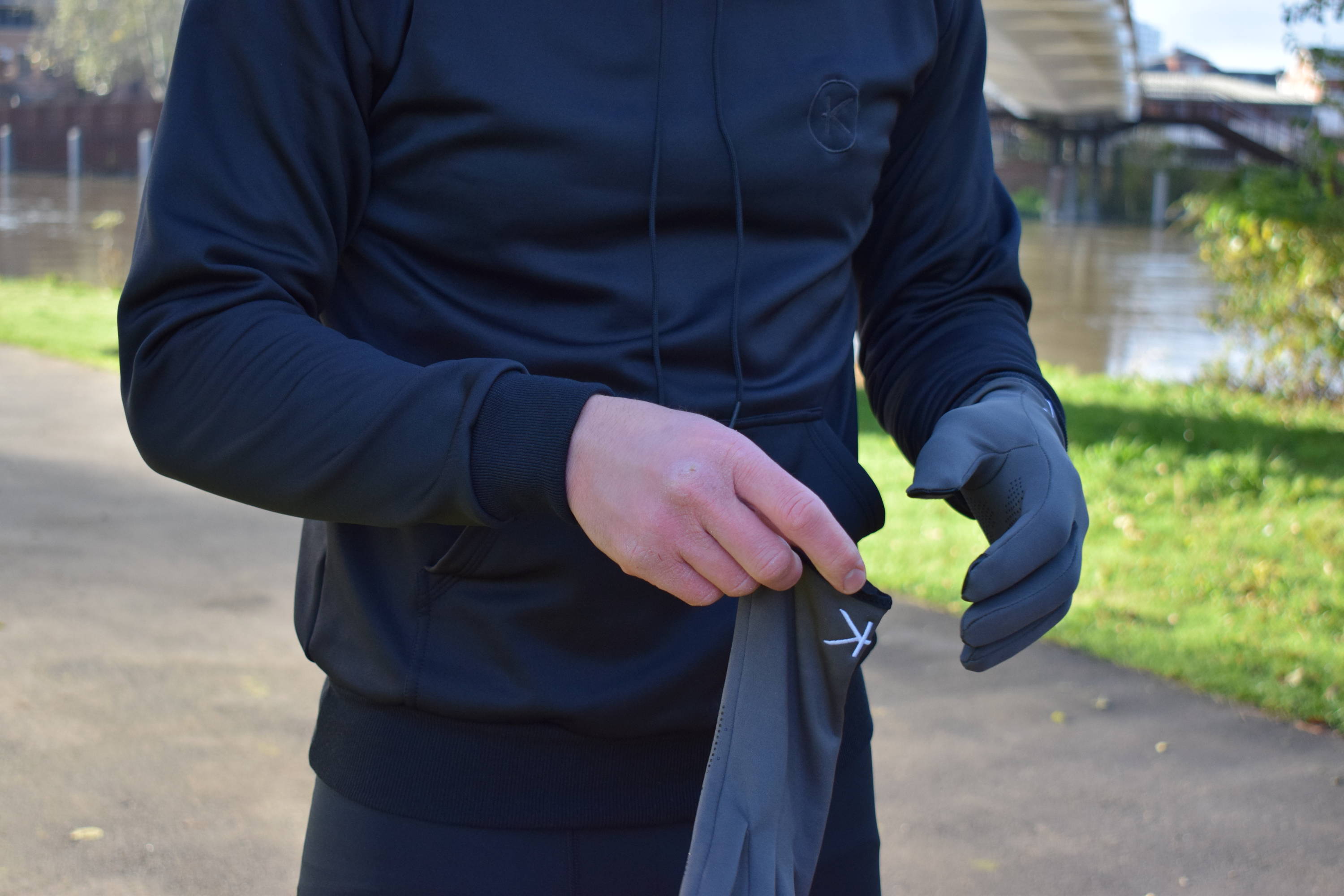 Time to Read
4 minutes
There's a paradox when it comes to sports gloves. You want the insulation, but need the gloves to be thin and flexible enough to allow your hands to move freely.
For years, product manufacturers have tried to find a way to make this work, but rarely have they been successful. Standard materials just can't insulate well enough at such thin layers, so truly warm gloves are thick and heavily padded. Not much use for runners and cyclists.
The answer to the sports glove paradox lies in making the gloves out of a material that harnesses the body's natural warmth rather than simply putting a barrier between the cold air and the skin.
Many years of lab testing, design tweaks and product development have allowed KYMIRA to produce a world first – a pair of thin gloves that not only insulate, but also allow free movement of the hands. These unique properties mean that the KYMIRA gloves not only keep the hands incredibly warm, they also allow the hands to perform any task required of them in a sporting context
Shop the Winter Product Range
The KYMIRA Infrared fleece gloves are layered with the same fabric technology as the rest of our range. The circulation-boosting properties of the infrared fabric ensure that your hands stay well insulated by improving blood flow to the area.
By increasing warmth without increasing thickness, the KYMIRA gloves are the most functional sports gloves on the market.
The unique layering of the infrared technology within the material means we can make our gloves from thinner fabric, allowing the gloves to maintain flexibility and comfort.
Another key feature of our gloves, is at they are constructed from a multiple-panel design which allows the hands to move freely and comfortably. The natural and unrestricted movement gives the wearer confidence that they can grip properly without dropping whatever they were holding – whether that's a ski pole, a drinks bottle, or a phone - you'll have confidence in the gloves.
These may seem like small details, but in sports such as cycling where you need a good contact with your handlebars, or running where you may need to adjust settings on your watch - then they come into their own.
The palms of the gloves are covered with rubber grip dots, which not only add an interesting aesthetic to the design, but further improve their utility. The grips allow you to hold a drinks bottle, a phone, a GPS tracker or anything else you may need whilst out on a run or a ride.
The index finger and thumb is covered with a touch-screen friendly material, meaning you can still operate any touch screen device with accuracy - without the need to remove your gloves first. This is a seemingly insignificant feature… until you need it and you are absolutely delighted it's there! If you've ever tried to operate a phone when it's freezing outside then you'll know the value of this feature alone!
The wrist extends slightly longer than a usual glove, giving you extra material to tuck into a long sleeved top or a jacket. Such a design feature helps to keep the wrist warm and prevents air-escape, maintaining warmth even more effectively.
Although they are an effective sports glove, our gloves also work just as well for standard use. The circulation-boosting benefits of infrared cross over to the everyday user. They are particularly useful when it comes to sufferers of Raynaud's Syndrome, where promotion of blood flow is paramount to helping ease the condition's symptoms.
At first glance, the KYMIRA gloves look like any other glove, but the difference that infrared makes means that they're excellent all-rounders. Warmth is not sacrificed for functionality - and vice versa.
Read Next:
10 Tips to Accelerate Recovery After a 50 Mile Ride
The 3 Key Interval Workouts for Cyclists
What to Eat to Increase Your Cycling Distance
Subscribe Today!