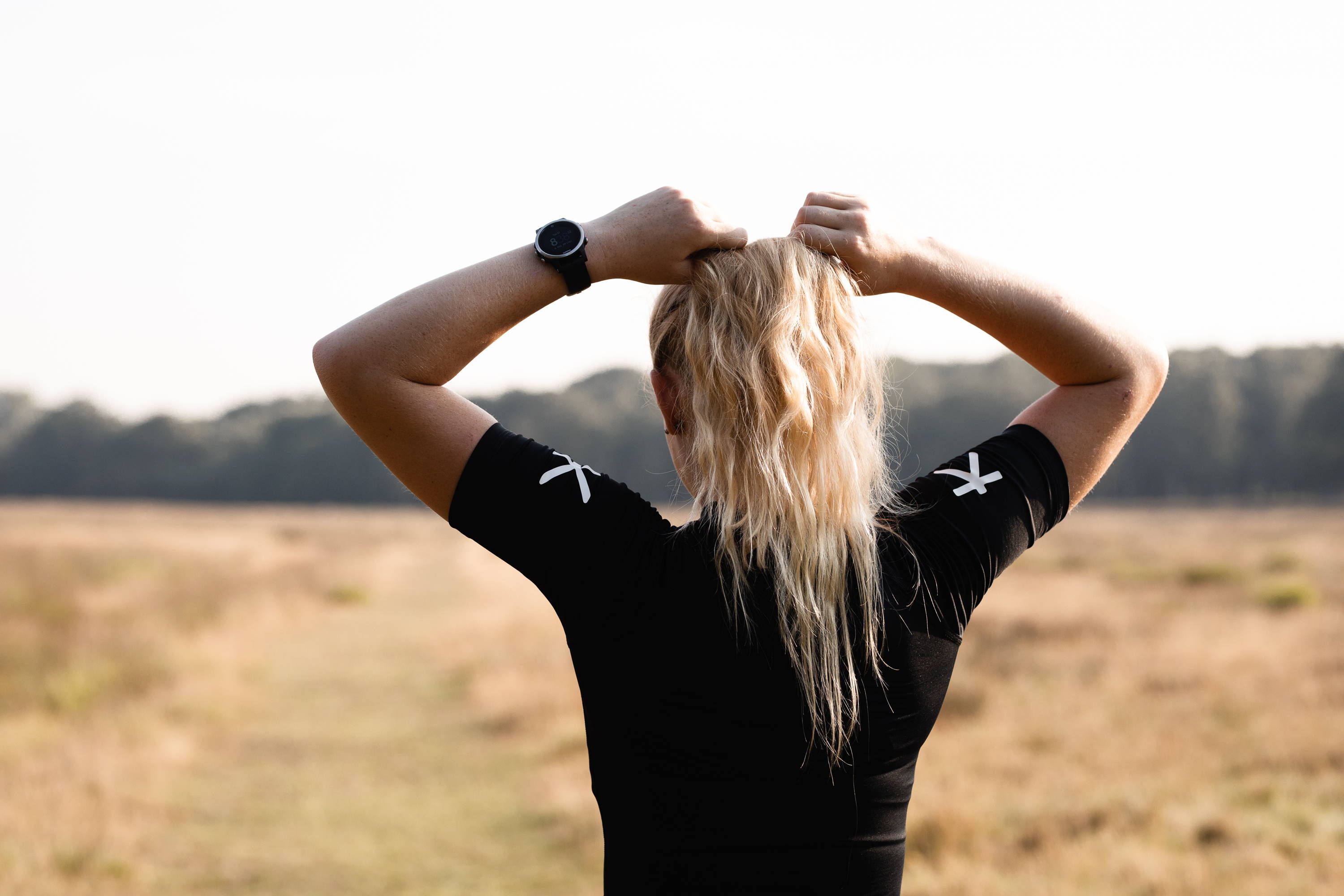 Time to Read
8 minutes
Points of Interest
Video
The range
Running, training and recovery garments
Cyclewear
Infrared accessories
The vast majority of our blog content focuses on performance improvements via training, nutrition and recovery strategies but today we're going to do something different – we're going to turn the spotlight inwards and talk more about the KYMIRA Sport clothing range, showing you how you can make giant performance improvements by wearing KYMIRA products.
These aren't marketing claims, we're going to back them up with evidence.
Perhaps you're here because you like the look of the KYMIRA Sport range. Maybe you've had a recommendation. You might have seen the clothing featured in a magazine article, a blog or on social media. Whichever route you've taken to reach us here, you may not yet know about what makes KYMIRA sport clothing so effective from a performance and recovery angle.
To start with, take a look at our explainer video…
When you consider that this technology is built into EVERY product that we make here at KYMIRA, you'll begin to understand why so many athletes swear by our kit.
What makes our infrared clothing unique is that unlike other brands, the technology is built into the material, rather than overlaid afterwards. This means it retains 100% of its effectiveness for the entire life of the garment. Other brands add the infrared technology as a coating on top, meaning its effectiveness diminishes with every wash.
With KYMIRA technology in every item of clothing we produce, you'll notice the improvement in your performance quickly.
Take a look at the science page on our website , which goes into more detail about how KYMIRA products work, and the research behind our smart textiles. Or, check out our pro website for our research materials and case studies if you want the full scientific run down.
Next up, we're going to take a broader look at our product ranges so you can see how our clothing can benefit you in your sport.
Whether you're a runner, a cyclist or a gym-goer there's a KYMIRA product that will suit your needs. We understand the demands from different sports, and those which are there for every sport, so our equipment is suitable for a wide range of activities, training and recovery.
The KYMIRA clothing range
The future of recovery science is where can generate much of the benefits seen in the other approaches but in a wearable tech form. That is where the KYMIRA Sport IR50 range comes into its own.
These garments are designed to improve blood flow to the localised tissues post exercise. Wearing the garments will speed up recovery using the infrared technology in the fabric, which will help to clear lactate and exercise-related waste products.
The improved blood flow speeds the delivery of nutrients to the tissues, so the post-exercise recovery process can start faster and last longer. We advise athletes to wear their IR50 recovery garments for between 30 minutes and 4 hours after exercise, which will put the wheels in motion to help your tissues rebuild, repair and clear waste products sooner and more effectively.
The running, training and recovery ranges:
IR50 Leggings and Tops – these are game-changing recovery items, and our top sellers no matter the sport or the season. Designed to be worn for up to 4 hours post exercise, they help to repair muscle and connective tissue, stimulate blood flow and get you ready to train again in the shortest time possible. Effective recovery is essential to achieving your goals and avoiding injury so if you buy anything let it be the IR50 range.
Core 3.0 Leggings – these are our perfect all-round training companion and will help you perform at your peak for longer by more effectively supplying your muscles with the nutrients like oxygen. Whether you're hitting the trails, taking a spin class or pushing yourself through a tough CrossFit WOD, these are perfect for the job. They're designed with comfort in mind and boast a compressive fit throughout.
Training Pro Tops – these are the premier upper body offering from KYMIRA. Whether you're a gym goer, a rower, a climber, a skier or anything else for that matter, the Training Pro Top is perfectly suited for you. Designed to allow a full range of movement in your upper body whilst maintaining compression, these are the tops other brands wish they'd made. Available in long and short sleeves, these can be worn under other clothing or solo and keep your body at the ideal temperature however you decide to wear them.
The KYMIRA cycling range:
PrO2 Cycle Jersey – with a hybrid race fit and a breathable, quick-drying fabric, the PrO2 cycle jersey will support you all the way to the finish- whether that be your daily commute to work or the Tour de France. With an SPF of 35, flatlock seams for comfort and a cut that prevents bunching regardless of your riding position, it's a must for any cyclist. Available in long and short sleeve to see you through every cycling season.
PrO2 Bib Tights – these are the Rolls Royce of cycling tights. With micro perforated grip bands for fit and a Masguant CoolMax pad for comfort, these are for the cyclist who demands more from their kit. Made with breathable jacquard race material, they're quick drying, yet still warm with all the benefits of our unique KYMIRA infrared fabric. Also available in bib shorts to work on your cyclist's suntan.
Onyx Cycle Jersey – The Onyx Cycle Jersey is your go-to all round cycling top. Cut with a hybrid race fit and comfort arms, you won't even notice you're wearing it. With an SPF rating of 35, it's perfect for those long days on the bike. As with the other KYMIRA products it retains the benefits of KYnergy technology and features a slick black design to match our classic base layers.
The infrared accessories range:
Infrared Compression Socks – These socks take the known recovery powers of compression, and take it to the next level it by adding KYnergy infrared technology. They are suitable for every kind of exercise, from running, cycling and hiking through to powerlifting and snow sports. They're a true all-rounder and have the added benefit of a supportive fit and pain-relieving properties to aid aches and injury.
Infrared Ankle Socks – these are the perfect gym or cycling sock. With design features to improve comfort and reduce friction (additional padding, raised tabs and supportive material around the foot arch), they're ideal for anyone participating in dynamic exercise. The KYnergy infrared technology boosts blood flow and improves recovery, and is designed for comfort, even when dealing with Plantar Fasciitis or swelling.
KYMIRA Gloves – touch capacitive fingertips for use on smartphones and tablets, silicon microdots for grip, and an extended wrist to eliminate frustrating drafts up your sleeves are just some of the seemingly minor design considerations that place these gloves firmly at the top of the range. All this paired with our infrared technology keeps your hands warm, and your circulation active. Whether you're running, skiing or snowboarding, these are perfect for your needs whether sporting or every day.
At KYMIRA we make industry-leading products that are backed by independent lab research. We don't make claims we can't prove, which is why we're trusted by some of the world's most elite athletes across a number of different sports.
If you demand more than just fashion from your clothing, KYMIRA's products will give you that extra boost in your training and recovery without sacrificing style.
Read Next:
No Pain, No Gain?
The 3 Key Interval Workouts for Cyclists
How to Sleep for Success
Subscribe Today!