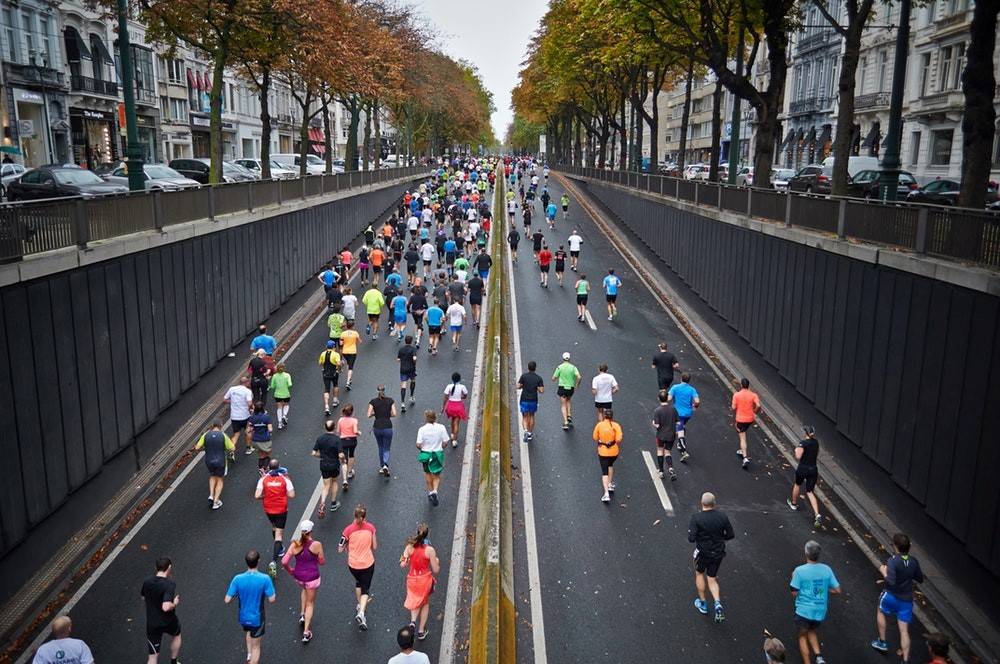 Completing a marathon is a challenging and proud feat to achieve.
However, the sheer distance and length of a marathon are tough on the whole body and the soreness you experience post-marathon is a natural result of muscle damage.
In fact, studies have shown the inflammatory reaction arising from intensive marathon run is a major factor in post-exercise soreness
It could take days or even weeks to fully recover from a marathon. The quicker you recover, the faster you can get back to full training and prepare for the next marathon. The aspects of marathon recovery are equally as important as the preparation for a marathon.
In this article, we discuss the 4 tips you can implement to expedite marathon recovery. Follow these tips and you will boost recovery, decrease the risk of injuries, and stay healthy.
Sounds good? Let's jump in!
4 Tips to Supercharge Marathon Recovery
1: Consume Protein and Carbohydrates Post-Marathon
Your muscles are in need of repair straight after the marathon. Refuel your body with carbohydrates such as whole grains, fruits, and fibrous vegetables. Foods such as potato, energy bars, banana, orange, and apple would be the ideal choice.
Also, consume protein-rich foods such as chicken, steak, eggs, fish, milk or protein shakes as it helps to aid recovery and replenish broken down muscle fibers.
While the proteins and carbohydrates will help repair muscle damage, the fruits will give you a boost in vitamins and antioxidants.
Our very own marathon runner's tip: When I finish a marathon, I like to have Snickers bar and glass of milk.
2: Go for Ice Bath
Once you are back home or to your hotel room, go for an ice bath.
Taking an ice bath is popular amongst elite and amateur athletes alike as it is believed to reduce inflammation and allieviate pain. Since 2015 a growing body of evidence into the use of icebath's has been formed that only supports the use of ice baths in certain cases.
After your ice bath, take a nap and this will further enhance the recovery.
3: Wear Infrared Sportswear
Wear infrared sportwear to enhance performance and recovery both during and after the marathon.
Here are some benefits of wearing infrared sportswear for active recovery during a marathon:
Helps to increase circulation and delivers more oxygen and nutrient-rich blood in the system
Removes waste products such as lactic acid.
Increase in tissue oxygen level as oxygen consumption increase.
Advantages of infrared sportswear for post-marathon recovery:
Pain relief is decreased enhancing recovery
Cellular recovery
Muscles repair, replicate and recover quicker
All these benefits without the tight fitting of compression wear, although our socks offer compression for muscle stabilisation they still have the added benefits of infrared.
Here is our recommended infrared sportswear for supercharged marathon recovery:
Core 2.0 Leggings
Infrared Compression Socks
4: Cross Train Before Resuming Training
Before you resume training and start running again, cross-train by swimming, brisk walk, hiking, or cycling. This will help expedite the healing time of cellular damage in your muscle tissue and get blood flow to your damaged muscle.
So, when should you start running?
As every person's body reacts differently to post-marathon recovery, the timeline will be different for most people.
A safe bet would be to give yourself 1-3 weeks of ample rest time and healing. Listen to your body and you will find out what works best for you (especially if it's your first time running a marathon).
Conclusion
Smart marathon recovery will help you expedite recovery and gives you the privilege to resume training fast and prepare for the next marathon.
Here's a recap of the 4 tips:
1. Consume protein and carbohydrates post-marathon
2. Go for Ice Bath
3. Wear compression garments
4. Cross train before resuming training
Happy recovery!
Over to You
Let us know in the comments below your thoughts on the 4 tips to enhance marathon recovery? We would love to hear from you!
Subscribe Today!