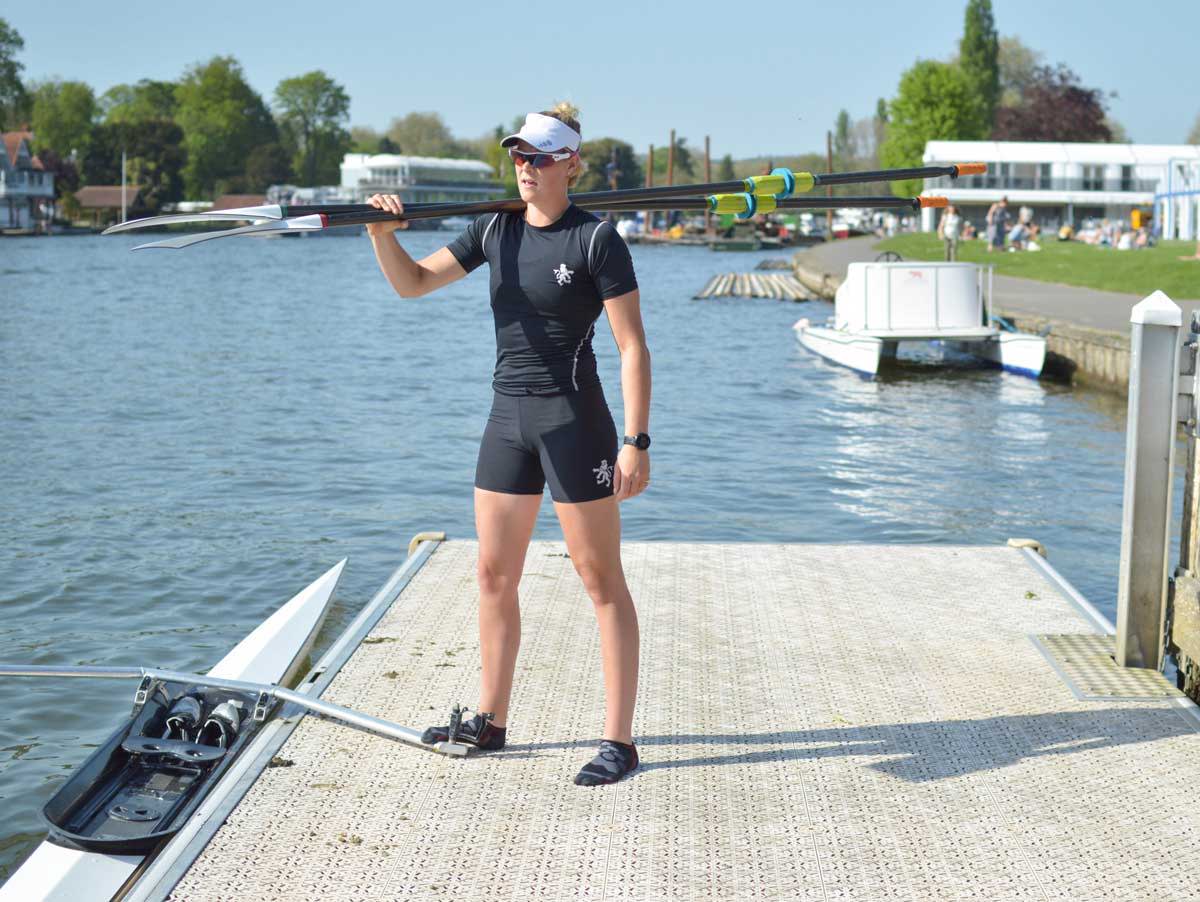 Professional Rower, Emily Ashford, Discusses How KYMIRA Sport Aided Her Recovery from Multiple Injuries
Leander Club in Henley-on-Thames, April 2018
GB rowing hopeful Emily Ashford is preparing herself to compete for a space in Team GB's rowing squad, and head for the Tokyo 2020 Olympic Games. Although an accomplished rower now, Emily's love for sport originally started with Basketball. However, following a ligament injury in 2013 whilst on Reading Rockets National League, Emily was prohibited from playing any impact sport. It was then that she discovered her talent for rowing and she hasn't looked back.
From early on in her rowing career, Emily has been singled out by many professional coaches for her talent and capability to compete at a high standard. However, during her early career a string of injuries set her back. Commenting on the list of injuries she has sustained over the years, Emily says: "I'm no stranger to injuries, I've definitely had my fair share from playing both basketball and rowing. Since 2013 I've sustained a snapped ligament, a herniated disk, a broken foot and undergone a hip operation. Although many people may have given up their sporting dreams by the second or third injury, I just wasn't quite ready to hang up the oars."
Since signing up to her University rowing team in 2013, Emily has spent an estimated two and a half years rehabbing injuries so understands the importance of ensuring her body is completely recovered before returning to the water. During this time, Emily worked with a number of specialists and sports therapists to help her recover and regain her prime sporting health, including Vincent Johnson at Circle Massage Therapy. As well as completing various specialist exercises to rebuild her strength, she is also a keen advocate for wearable sport technology and says this has been a key factor in her recovery.
Emily added: "During my many years working with the physio, it was apparent that the exercises I was carrying out to help me recover were intense and painful. To help me through this process and allow me to have better quality sessions, I opted for wearable sport technology brand, KYMIRA Sport . It's truly fantastic what technology can do these days from reducing pain and increasing circulation to regulating heat and reducing the DOMs. I was aware that every recovery session counted and was getting me one step closer to returning to rowing, so using technology that could help aid that recovery was a no brainer."
Since 2014, Emily has been a brand ambassador for KYMIRA Sport, promoting its innovative infrared technology, as the products have been designed specifically to enhance performance and accelerate recovery. Using KYnergy technology, the garments harnesses the wearer's waste energy and latent energy by converting it to infrared, resulting in the increase of nitric oxide, which has been proven to produce positive effects on the body including:
Increasing blood circulation
Increasing tissue oxygenation
Increasing the efficiency of respiration
Increasing energy production
Relieving pain
Increasing cellular repair and replication
The benefits from wearing KYMIRA Sport have helped a number of athletes from around the world, both professional and amateur, to push themselves whilst in training, however, the effectiveness of these products shine through when worn to aid recovery following an injury.
As recovery is very much built around weight training, Emily is certain she wouldn't have been able to partake in as many recovery sessions as she did if it wasn't for wearable technology supporting her through her recovery and ensuring quick muscle repair.
Following her latest back injury, she was able to speed up her physio with the help of wearable tech, and was in rehab for just eight weeks before returning to competition standard. In fact she was entered into the Elite Category at 2016's Met Regatta and Henley Women's with a fellow rower who had also recently returned to the sport following an injury. Although they had both been out of the sport for a number of weeks, they went on to win both races.
Emily said: "During my last stint of rehab, my physio has said that I had loaded my body asymmetrically and was actually lopsided. In order to properly recover I had to reduce my muscle right down and slowly and carefully build back up from the beginning. KYMIRA Sport definitely helped me recover quicker and reduce the pain I should have been in. I don't believe I would have won those 2016 races and be in the position I am in today if it wasn't for the wearable tech complementing my physio sessions."
Now fully recovered and following a successful weekend competing in seat racing with the GB Rowing Team (GBRT), Emily and her pairs partner have been invited to train with the national team. As the only two invited from outside GBRT, Emily is hoping to earn herself a place within the crew competing in international regattas, including the upcoming World Cup.
KYMIRA Sport will continue to support Emily through her sporting career, helping her reach her Olympic goal.